Are your ready to start your business in 2017?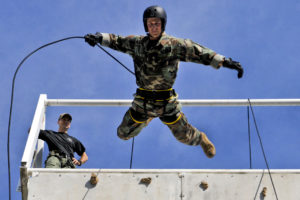 Over the past six years I've been helping military veterans transitioning and looking to explore or start franchise businesses. I've often been asked; what does it take to succeed in military to franchise transition.  I was thinking about this over the holiday break and came up with lots of attributes to write about. As I wrote down all the things I could think about and reviewed my thoughts, I kept coming back to four essential traits; The Four C's of Military to Franchise Transition: Confidence, Courage, Concept, and Capital.
CONFIDENCE – Ask anyone who sells for a living, confidence is key to their success, a customer can sense when the person across the table doesn't believe in themselves or the product, company they represent. Confidence is created by gaining self awareness, clarifying your values and overcoming limiting beliefs. Embracing uncertainty and defining and visualizing what you want your life to be will give you the confidence you need to make the leap.
COURAGE – Can you summon the courage to overcome the fear of change. Starting a business is like the first time on the repelling wall.. Everyone who has stood at the edge of that wall hesitating before taking the plunge has experience this fear. Your brain that wants to protect you, to avoid anything that may hurt you. Even though you're attached to that rope and you know the brain makes you hesitate before making that leap.  The more unknown, the more fear and hesitation. Fear echoes in our brains so we dismiss ideas that requires change. The more you don't know what you don't know the more fear, the more resistant to change.
CONCEPT – Selecting a franchise concept that is right for you, that aligns with your passions and values is critical. Everyone wants to make money at their chosen business, that's a given. Passion is what sustains you, what fuels you, your employees and what attracts customers to your business.  When you seek your passion, you empower yourself and expand your opportunities.
CAPITAL – Starting a franchise takes money.  The bank wants to see at least 20% to 30% your money (equity) as your investment along with a credit score of 700. What every bank is looking for in your business plan is a clear strategy on how you intend to pay back the loan. The bank is also looking for how you intend to sustain your personal living expenses (PLE) until your business develops positive cash flow.  Your business plan financials should include at least 6 months operating capital which should include a salary for yourself to sustain your PLE.
Change is difficult, but if you have the above characteristics and always wanted to own a business, investing in a franchise may be a great way to leverage your military skills, compliment your retirement income and invest money you have saved to build long-term equity that offers greater control of your life.
Good reading: THE FLINCH