FranLink System™
Powered by the Franchise Broker Association
 Spray-Net gives homeowners more than just a paint job. Since brand-new siding, doors and windows are painted in a factory, we asked ourselves, "how can we bring the same factory-quality finish directly on-site to homeowners?
Using our proprietary line of industrial-strength, weather-adjustable exterior paints and coatings and specialized spray equipment, we've created a permanent exterior paint solution for revamping aluminum and vinyl siding, stucco, front and garage doors, windows… and even brick!
With every project, we deliver a permanent, factory-quality finish that won't peel and looks just like-new… not repainted. At a fraction of the cost of brand-new siding, doors and windows, we give homeowners a cost-effective alternative to replacement that instantly boosts curb appeal.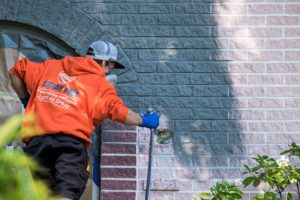 Basic Franchise Info
Average Investment:
N/A
Minimum Investment: $123000 - $163000
To see this information click the button below!
Min. Liquidity: 100000
Years in Business: 2010
Open Units: 48
In-House Financing: Yes
Lead Assist: Yes
Coaching: Yes
Request Information